Polyurethane Screening System
Product Detail
Product Tags
The screening media is an important core part of screening equipment. When the vibration screen is vibrating, through the different shapes and geometrical sizes and under the action of external forces, the raw material will be separated and achieve the purpose of grading. All kinds of properties of material, different structure and material of screening panel or tension and various parameters of screening machine have certain influence on screen ability, efficiency, running rate and life. Different materials, different places, should choose different screening media products to achieve better screen effect.
Depends on different equipment, requirement and circumstance, the screening media can be separated by below series
1.Modular series
2.Tension series
3.Panel series
The connection with the equipment is generally divided into: mosaic connection, bolt connection, pressure bar connection, screening hook connection and so on.
Mining applications
1.Pre-grinding ore
2.Pre- heap leach
3.High grade ferrous ore
4.Mill discharge screens
5.Dense media circuits
6.Control screening - fine removal
The polyurethane screening system makes full use of the excellent wear-resistance of the polyurethane elastomer, showing the high strength, high elongation and high elasticity in the hardness range. Polyurethane is an ideal material for screening. It offers abrasion resistance and is flexible enough to avoid material build up. It also works perfectly in both wet and dry screening applications. Modular systems can be made to any size, shape and strength. Customized for any machine and client specification so that it becomes completely inter changeable with other systems. This system is ideal for screening and de-watering. The polyurethane panels can also be very quickly replaced without the need for specialist knowledge or tools. There are a variety of different accessories to enable uses over a broad range of applications. Especially, our polyurethane tension screens built with metal cable reinforcement. This design technique increases the polyurethane's resistance to strain and load by absorbing the tension. The flexibility is ideal for uses when screening materials either build up on the screening surface or wedge during screening. Manufactured to any size or specification to enable it to fit any machine. Customized sizes and working condition are also available upon request.
Polyurethane panel screen series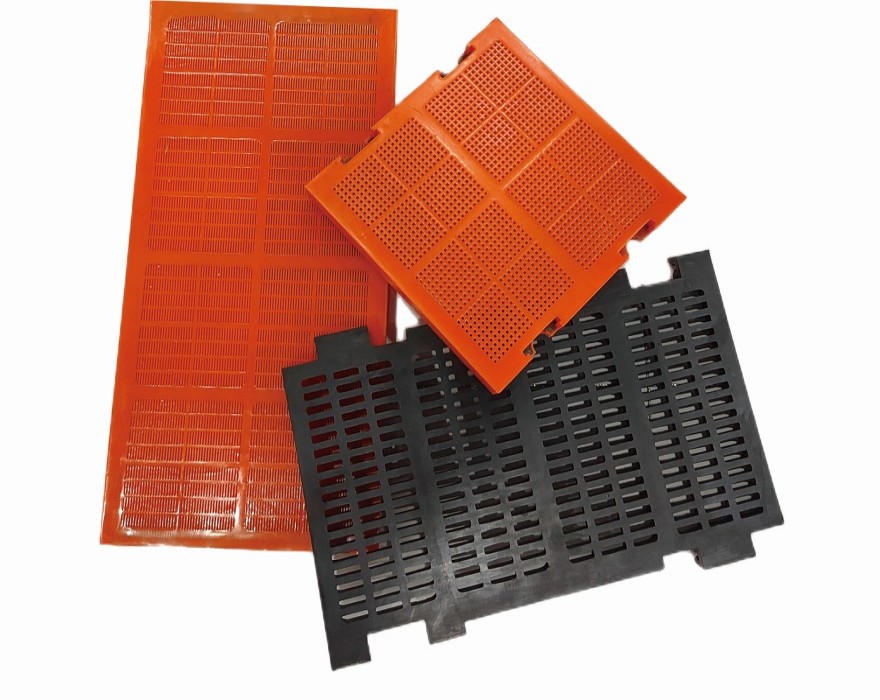 Polyurethane tension screen series
Features
1.Good shock absorption
2.Oil resistance
3.Low temperature resistance
4.Heat aging resistance
5.Corrosion resistance
6.Electrical insulation
7.Wear resistance
8.Self-cleaning
9.Energy saving
Working parameter of polyurethane screening products
Items
Units
Parameters
Hardness
Shore A
65
70
75
80
Tension strength
MPa
10
11.5
13.5
16
Break elongation
%
410
400
395
390
Shear strength
N/mm
33
43
47
55
Wear- resistance of DIN
MM³
98
50
39
35
Rebound rate
%
80
70
69
67
---
Previous:
Haul truck bed liners
Next:
Rubber mill liners
---
Write your message here and send it to us