Conveyor Belts & Rollers
Product Detail
Product Tags
Conveyor belts
A conveyor belt is the carrying medium of a belt conveyor system (often shortened to belt conveyor). A belt conveyor system is one of many types of conveyor systems. A belt conveyor system consists of two or more pulleys (sometimes referred to as drums), with an endless loop of carrying medium—the conveyor belt—that rotates about them. One or both of the pulleys are powered, moving the belt and the material on the belt forward. The powered pulley is called the drive pulley while the unpowered pulley is called the idler pulley. There are two main industrial classes of belt conveyors; Those in general material handling such as those moving boxes along inside a factory and bulk material handling such as those used to transport large volumes of resources and agricultural materials, such as grain, salt, coal, ore, sand, overburden and more.
A heavy rubber conveyor belt is primarily meant for use as an abrasion resistant material. The harder black rubber material is a blend of neoprene, nitrile, and styrene butadiene rubber (SBR) and comes inserted with a cloth fabric. This cloth-inserted rubber is therefore ideal for use as industrial level pads, strips, and flaps. It is especially well suited for use a rubber belt conveyor for various industrial machines. Use this reinforced rubber when durability is a necessary aspect for the application.
Highly durable
The heavy conveyor belt material is the perfect choice for any industrial applications that involve physically harsh conditions. The rubber material is compounded to offer superb abrasion resistance and impact absorption. Given its superior strength, this harder black rubber material can act as an effective barrier between two sensitive objects.
Cloth-Inserted rubber
The unique and distinguishing feature about the rubber conveyor belt is that the rubber material is impregnated with a cloth fabric. It is a synthetic fabric material that greatly reduces the amount that the rubber can stretch. This gives the rubber belt conveyor a more solid and stable form. The presence of this fabric inside the rubber makes this reinforced rubber ideal for mechanical fastening applications where the rubber part needs to keep its form and not drag or deform over time. We offer this material in a 2ply (two fabric sheets) and a 3ply (three fabric sheets) option.
Chemical resistance
Thanks to the unique blend of different synthetic rubbers in this product, it will exhibit a stronger resistance to oils and chemicals than most other elastomers. While the SBR gives this cloth-inserted rubber a better degree of physical durability, the neoprene and nitrile rubbers enhance other characteristics. The nitrile rubber allows the heavy rubber conveyor belt to resist natural and synthetic oils and other petroleum based solvents. Neoprene brings its excellent all-around chemical resistance traits to make this rubber resist the degrading effects of several chemicals.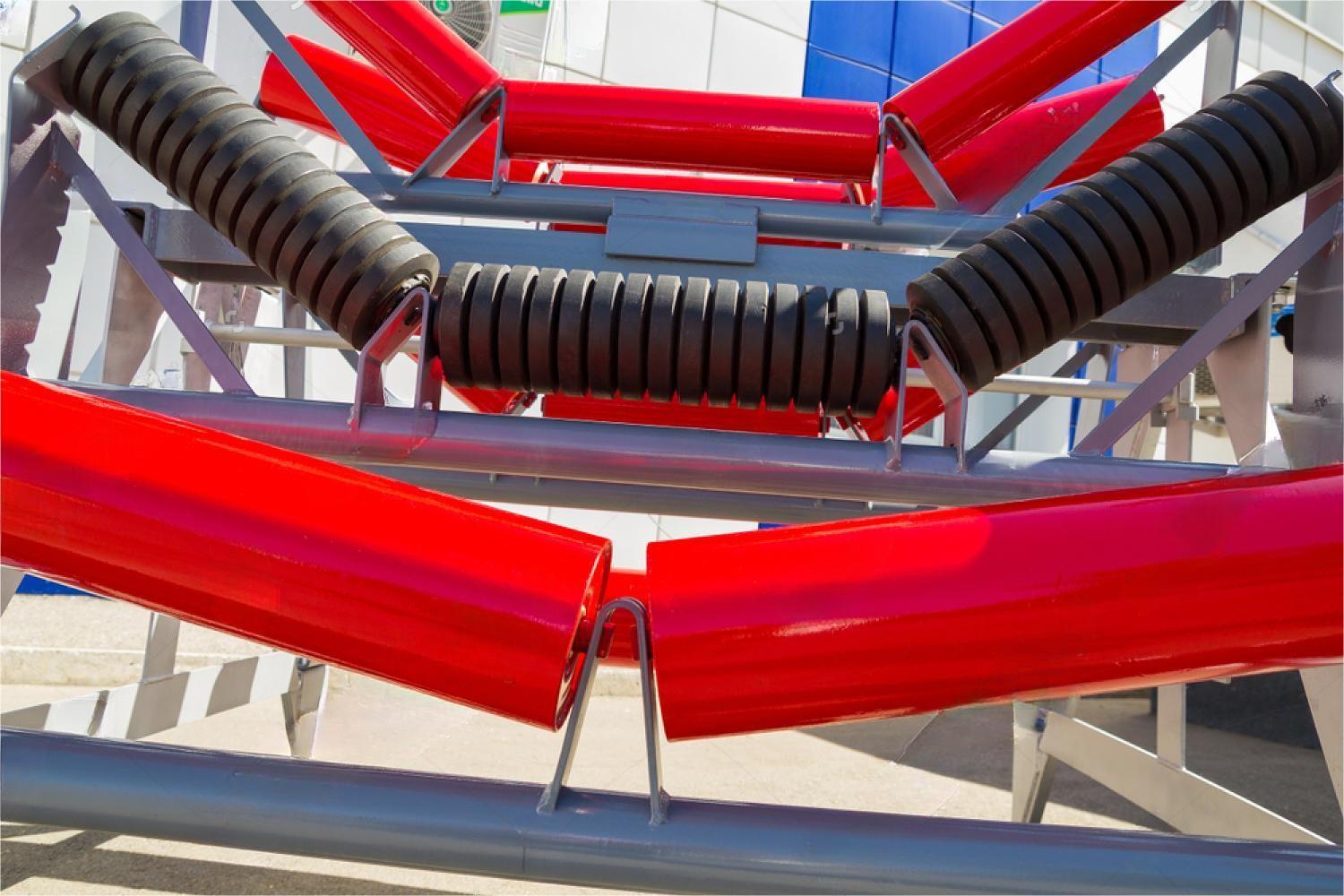 More benefits
Working temperature range of -20° F to 200° F
Available in custom specifications to suit your applications
Rubber belt conveyor roll available in up to 250 feet continuous
Ideal for use in take away conveyors transferring abrasive physical materials

Conveyor rollers
Conveyor rollers are used in unpowered (gravity-flow) roller conveyors, powered roller conveyors, roller-bed belt conveyors, and material transport stands to support and move bulky items such as boxes and totes. These replacement rollers can be used to replace or upgrade the existing rollers on compatible conveyors or stands. Each roller has a spring-retained axle that can be pushed in to install or remove the roller from the conveyor frame or stand. The rollers let loads roll from one place to another, reducing the effort it takes to move the loads in warehousing, package handling, manufacturing, and distribution tasks. Loads roll forward and back on the rollers, and they can be pushed from side to side along the width of the conveyor.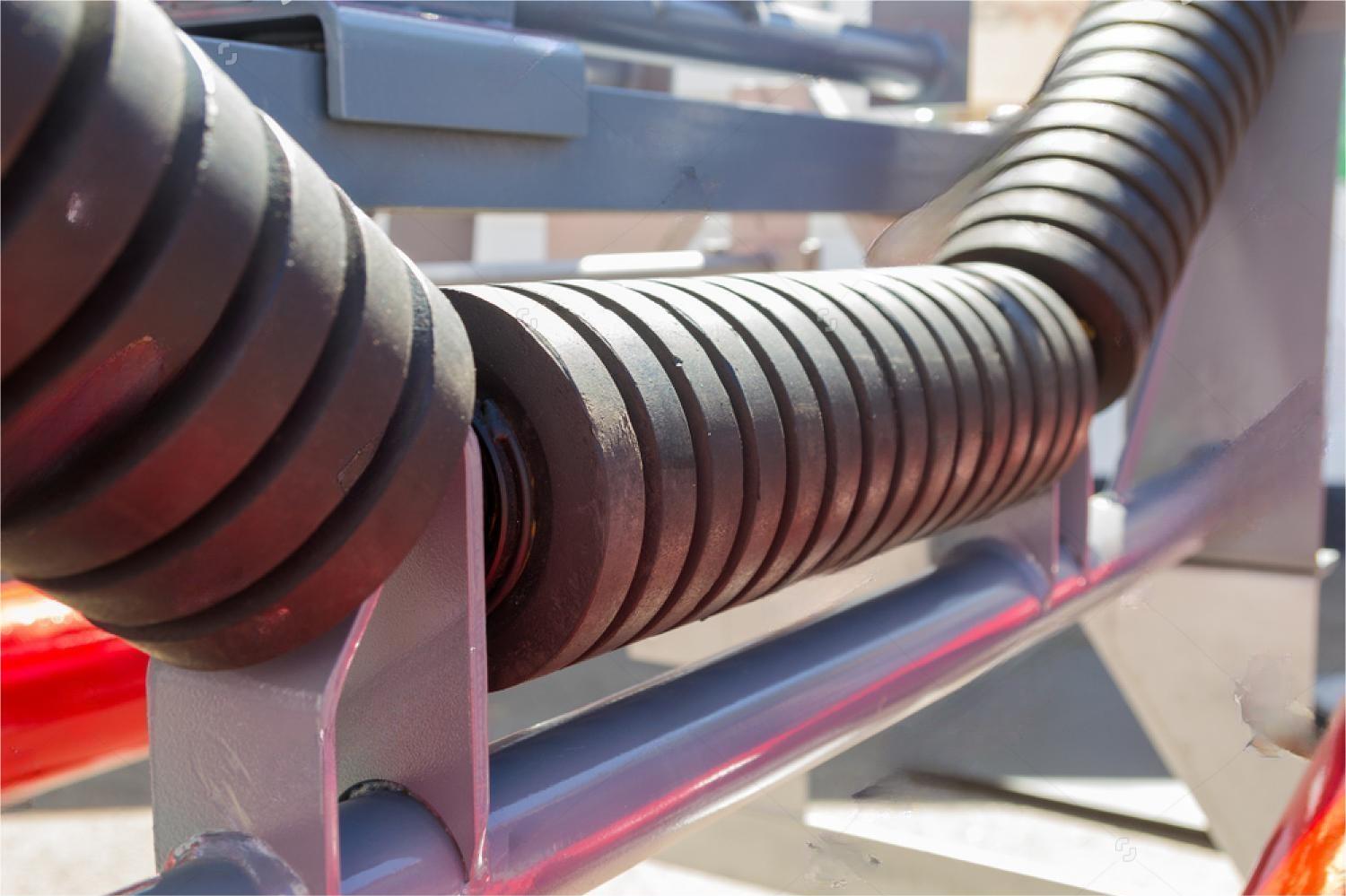 Conveyor accessories
conveyor rollers
roller garlands
carrying frames
drive, bend take-up and snub pulley applications
manual and automatic take-ups
pulleys with frictional lagging
rubber cushion impact discs and backup discs
conveyor pulley
conveyor idler
conveyor drums
Materials
steel, stainless-steel, plastic and rubber, and also consult factory to do customized one.
Stripe rubber pulley lagging
---
Previous:
Wear Resistant Track Pads
---
Write your message here and send it to us